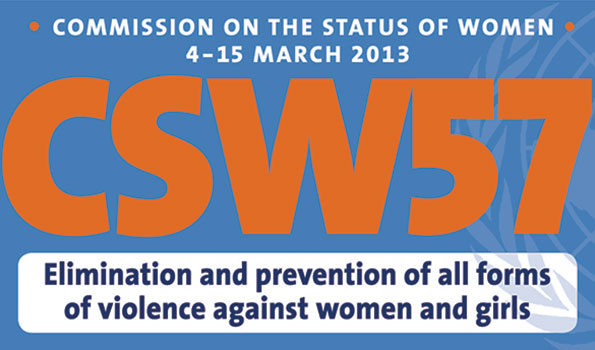 The next two weeks at the United Nations are well, kinda a big deal.
Why? Well, it's the 57th Session of the Commission on the Status of Women (CSW)! The CSW is a commission of the United Nations Economic and Social Council (ECOSOC) and according to the CSW website, it is "the principal global policy-making body dedicated exclusively to gender equality and advancement of women". This year's priority theme is "the elimination and prevention of all forms of violence against women and girls". This all sounds great, right? Who in their right mind wouldn't want to end violence against women?
The problem is that making sexual and reproductive rights a priority is a major part of the proposed solution to this problem. Every year it features countries that want to push abortion on demand on the rest of the world, and yes the USA is one of those. This year proponents of abortion rights will argue that abortion should be a right of reparation in situations of armed conflict.
One interesting fact is that during last year's 56th CSW session, the final document that was supposed to address the priority theme of "the empowerment of rural women and their role in poverty and hunger eradication, development and current challenges" did not pass because of failed negotiations. The negotiations failed mainly because the United States used very undiplomatic tactics in order to impose Obama's contraceptive mandate on the world through language in the outcome document of the commission. As expected, this angered other countries who opposed both the US's language and their unacceptable behavior. This is explained in more depth in a Friday-Fax by the Catholic Family and Human Rights Institute (C-FAM) published around this time last year.   We hope that this year countries take the same stand against such a radical and controversial attempt at pushing forward the case for abortion on an international level.
Some things to know about this year's CSW session: There is the ever-present concern that controversial language that defends reproductive and sexual rights on an international level could become part of a final resolution. Also, because this year's priority theme is about violence against women, efforts by the US and European countries to make abortion a right of reparation should be a key concern for pro-life activists during this session.
#CSW57 - Keep up with the events and negotiations via Twitter!
Also, you can learn more about the CSW here!
Since beginning my internship at C-FAM last week, I've had the incredible opportunity of attending congressional meetings and seeing the U.S. government at work. Yesterday I attended the House Committee on Foreign Affairs hearing on the status of Chen Guangcheng, a Chinese activist against forced abortion and sterilization who recently escaped house arrest and is planning to travel to the United States. I had the privilege of not only listening to testimony from various Chinese human rights advocates, but also of hearing Chen's voice on the phone from China.
The first witness was Pastor Bob Fu of ChinaAid Association. He described the uncertainty of Chen's situation as well as the danger his family and supporters face. While Chinese officials have ferociously prevented anyone from visiting Chen, including U.S. diplomats, he believes that China's promise to allow Chen to come to the U.S. is encouraging.
The next testimony came from Wei Jingsheng, a human rights activist and head of the Overseas Chinese Democracy Coalition. Through a translator, Wei told the story of his eighteen-year political imprisonment and the abuses he suffered at the hands of the Chinese government. He emphasized that the Chinese respond to U.S. demands for human rights in proportion to the level of American pressure; therefore, the U.S. must be "all in" on human rights in order for the situation in China to improve.
Following Wei was Reggie Littlejohn of Women's Rights without Frontiers, who testified on behalf of two of Chen's supporters in China. The first supporter wished to thank the House committee for its help, since its intervention has prevented her from being tortured (although she has been kidnapped and assaulted more than once in the past for assisting Chen). The second supporter was Chen's lawyer, who was so brutally beaten after trying to visit Chen in the hospital a few days ago that he has lost hearing in one ear. Nevertheless, he has continued to advocate for Chen's extended family, including Chen's nephew, who was recently charged with "intentional homicide" despite not killing anyone; the nephew defended himself from Chinese officials who severely assaulted him and his parents in their own home because they are relatives of Chen. Littlejohn expressed concern at the disregard for rule of law in China, since the very lawyers trying to uphold it have been violently harassed and intimidated.
Next was Chai Ling, head of All Girls Allowed, a group that seeks to end the "gendercide" of female children in China that has resulted because of the one-child policy. She told the stories of two women who suffered greatly because of the policy: one died because of a forced abortion, while the other saw her house demolished and her family separated because her parents violated the policy; she was ultimately sold as a child bride and forced into prostitution. According to Chai, these situations are not exceptions, but a persisting reality in China today. Most disturbing, however, was the testimony of Mei Shunping, a victim of five forced abortions who described (through Chai as her translator) how all of the women in the factory where she worked had to undergo monthly pregnancy tests and were all punished severely if a single worker disobeyed the policy. Mei attempted suicide after the trauma she faced, but eventually escaped to the United States and found peace in her Christian faith. In fact, both Mei and Chai ended on positive notes, explaining that they had hope because they knew that God would not abandon them.
Finally, Fu called Chen, put him on speakerphone so everyone could hear, and translated as Chen spoke about his situation. Chen is unsure of the status of his paperwork and legal documents that would allow him and his immediate family to travel to the United States, but he insisted that Chinese officials' brutality toward his family and the false charge of intentional homicide on his nephew violate the Chinese constitution. When asked what he would like to say to the United States as a whole, Chen thanked the American people for their help and support and reminded everyone that justice and equality are universal values. After Chai praised him for being a hero to Chinese women, Chen responded that he is not a hero, as he is only acting according to his conscience; he cannot be silent on the evil the Chinese government has committed against women and children. In his final words, he reiterated his concern for his extended family.
The hearing yesterday served not only to update the world on Chen's situation, but also to bring to light the brutality of the one-child policy and its degradation of women and children. The witnesses disputed the United Nations Population Fund (UNFPA) claim that women comply with the policy voluntarily. While undoubtedly some do, many comply only because of intense social pressure and fear of retaliation; women who defy the policy face not only astronomical fines, but also forced abortion and sterilization. Unfortunately, economic interests have made the United States reluctant to demand protection of human rights in China in issues ranging from the one-child policy to free speech. Activists here and abroad, however, have made it clear that that they will not rest until China recognizes and defends the rights of all.
http://oaklandpostonline.com/2012/03/20/perspectives/alumni-goes-to-un-for-women%E2%80%99s-conference/
The Commission on the Status of Women is a part of the United Nations Economic and Social Council.
The main goal of the CSW is to work in global policy decisions pertaining to gender equality and the advancement of women.
This year, the CSW met for the 56th session at the UN Headquarters in New York City.
Each year, the conference takes on a different theme pertaining to the rights of women.
This year, the conference focused on the empowerment of rural women and their role in poverty and hunger eradication, development and current challenges.
One of the key issues debated at the conference was sexual and reproductive rights of women.
Although abortion is a highly sensitive topic, it is one that was discussed heavily at the conference.
I attended this conference as an intern with C-FAM, the Catholic Family Human Rights Institute, a pro-life, pro-family non-governmental organization.
During the conference, I worked with 10 other interns from the U.S., Austria, Mexico and Argentina in attending parallel events regarding rural women as well as writing about our experiences on a blog for the International Youth Coalition.
A remarkable moment at the conference for me was the viewing of a documentary on human trafficking entitled, "Nefarious: Merchant of Souls," which was an emotional and powerful documentary on the horrors of the biggest criminal industry in the world. It shows how widespread human trafficking is and how impactful it is to those who partook in acts of sexual trafficking. Relevantly, the upcoming Women's Symposium at Oakland University will feature a special discussion on human trafficking.
The recent mandate by the Obama administration for religious institutions to provide contraceptives and other forms of birth control to its employees has been a highly debated topic in recent news.
Personally, I believe the right to life is the most fundamental rights that must be protected.
Women deserve better than abortion and children like women also deserve rights. At the UN conference, I got a sense of not only how bureaucratic the UN is, but also how gender was such an important concept and phrase which was used in most literature I came across.
Women's rights and abortion were simultaneously used throughout various talks I attended, however, China's one  child policy is an example of how abortion is more harm than good.
A lecture I attended by Dr. Susan Yoshihara, senior vice president for research and director of the International Organizations Research Group, talked about how the whole idea of population control in China and sex-selective abortion.
The CSW conference gave me a better understanding of how human rights are enforced and enacted at the international level, it also alerted me to the importance of standing up for the unborn, for they also an important part the future of society.
Zaid C.
In drafting the resolutions for publication by the United Nations the delegates seem to prefer the most vague language possible. The end result of these deliberations are the very opposite of resolute. Rather than short, concise, statements of expectations and calls for action, the process produces verbose documents with indefinite wording which no single individual could claim to have the canonical understanding of. The process itself weeds out specific language which could be applied to specific actors in the process. In a manner of speaking there is bound to be a measure of this regardless, simply because of the largely consensus based nature of the deliberations. However, this goes above and beyond what one would expect due to a principle called constructive ambiguity. This principle often means over-broad language is chosen to avoid conflict over contentious issues: but it is more often used in this context to introduce controversial issues without them appearing controversial at all. Using this principle nations can speak about issues such as family planning, violences against women, and abortion without appearing to take any strong stance about them. It is a way to avoid responsibility while appearing to make progress or agree on what should be done with other nations.
A specific example would be with references to gender in proceedings and discussions around the conference. In some cases where gender discrimination and equality are brought up there are proposals which textually specify equality between men and women. These are usually struck down quickly. Similar cases abound with specific language supporting the family. The matter of definitions is also a large problem. If you asked many people in the delegation to define exactly what "gender dimensions" are you would get vastly different answers.
Outside of the pro-life coalition this penchant for ambiguity, particularly in regards to the family and abortion, is the rule. In side events sponsored by such organizations no person would speak about abortion unless specifically asked, and even then they would avoid the use of the word at all costs. Instead they use phrases such as "reproductive rights" or "sexual rights."
However, of all of the events I witnessed this week during this conference the only ones which specifically spoke about these issues were sponsored by pro-life organizations. These were also the only events which backed up their assertions and arguments with statistics and studies. Such studies were conspicuously absent at other such events.
These two different mentalities illustrate the deep divide over these issues. One of the common criticisms of the U.N. is that it produces a lot of talk, but no action. On one level this is quite true. The resolutions are, again, verbose and vague. However, because they are so imprecise and open to interpretation, the organizations which attempt to draw legitimacy from the U.N. on the feminist side of these debates are able to say that these resolutions support their cause. Through the use of common terminology, and definition of words by practice, support for family planning and abortion are legitimized. However, there is hope for change in these proceedings. Pro-life groups and advocates are far more specific and have the potential to make the discussions and deliberations far more productive; to change the nature of the debate over abortion and the family.
Elliott Bradley is a student of International Politics and Policy at Patrick Henry College. He comes from large Christian family and is deeply interested in law, political philosophy, and international relations.