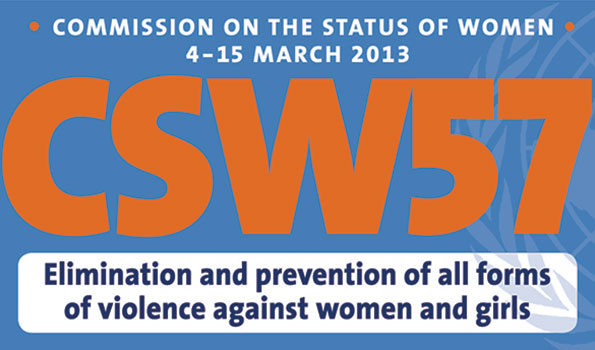 The next two weeks at the United Nations are well, kinda a big deal.
Why? Well, it's the 57th Session of the Commission on the Status of Women (CSW)! The CSW is a commission of the United Nations Economic and Social Council (ECOSOC) and according to the CSW website, it is "the principal global policy-making body dedicated exclusively to gender equality and advancement of women". This year's priority theme is "the elimination and prevention of all forms of violence against women and girls". This all sounds great, right? Who in their right mind wouldn't want to end violence against women?
The problem is that making sexual and reproductive rights a priority is a major part of the proposed solution to this problem. Every year it features countries that want to push abortion on demand on the rest of the world, and yes the USA is one of those. This year proponents of abortion rights will argue that abortion should be a right of reparation in situations of armed conflict.
One interesting fact is that during last year's 56th CSW session, the final document that was supposed to address the priority theme of "the empowerment of rural women and their role in poverty and hunger eradication, development and current challenges" did not pass because of failed negotiations. The negotiations failed mainly because the United States used very undiplomatic tactics in order to impose Obama's contraceptive mandate on the world through language in the outcome document of the commission. As expected, this angered other countries who opposed both the US's language and their unacceptable behavior. This is explained in more depth in a Friday-Fax by the Catholic Family and Human Rights Institute (C-FAM) published around this time last year.   We hope that this year countries take the same stand against such a radical and controversial attempt at pushing forward the case for abortion on an international level.
Some things to know about this year's CSW session: There is the ever-present concern that controversial language that defends reproductive and sexual rights on an international level could become part of a final resolution. Also, because this year's priority theme is about violence against women, efforts by the US and European countries to make abortion a right of reparation should be a key concern for pro-life activists during this session.
#CSW57 - Keep up with the events and negotiations via Twitter!
Also, you can learn more about the CSW here!
A panel of speakers organized by IPPF at this years AIDS Conference represented different issues related to HIV prevention. The panel hinged on the idea that "condoms are seen as the cornerstone of effective and holistic approaches to the management of sexually transmitted infections (STIs) and HIV prevention."
However, it quickly moved beyond the issues of HIV prevention to tie the fight against this disease with a greater liberalization and acceptance of pornography, contraceptives and sexual promiscuity: the same social dysfunctions which fuel a broken society where HIV/AIDs continues to spread.  The discussion included Anne Philpott from the UK's Department of International Development and The Pleasure Project, as well as Jon O'Brien, President of Catholics for Choice. This presentation, entitled "The Politics of Condoms: Cock-ups, Controversies and Cucumbers," lived up to the unprofessional and provocative nature of its title.
Philpott's program is an initiative which seeks to take a "sexy approach to safer sex," presenting male and female condoms as tools for promoting pleasure and intimacy. The Pleasure Project networks with NGOs and the public health sector in the UK along with "erotic media producers" (including one of the UK's largest pornography developers) to promote the use of contraceptives.
Catholics for Choice's Jon O'Brien spoke as well on the controversy of contraception. His ideas were presented a few days earlier in an editorial for Religion Dispatches posted on July 19th . There O'Brien continued his ongoing misrepresentation of the Pope's comment in 2010 about the use of condoms. As we know, what the Pope said was, "there may be a basis. . . as perhaps when a male prostitute uses a condom, where this can be a first step in the direction of moralization . . . But it is not really the way to deal with the evil of HIV infection." Of course, the Catholic Church's stance on prostitution and homosexual intercourse was in no way undermined by the Pope's comment on a the hypothetical and internal moral decision making of homosexual sex workers, but it is again being abused as a way to promote the false idea that contraception saves lives.
Again, the core issue at hand with this conference is the lie that condom usage is a moral and effective method of preventing the spread of HIV. An organization in support of contraception and abortion, Catholics for Choice's remained as silent as any other group at the AIDS conference about the fact that a single generation of monogamy, or even one where avoidance of risky behavior was prevalent, could more effectively halt the spread of HIV. The celebration of "when you want, whoever you want, however you want it" permeated the conference as a whole. In the midst of so much good will and sincere effort to stop this terrible disease, it was more than a little tragic to see the celebration and even encouragement of risky behavior take center stage.
For O'Brien's article: The Truth About Catholics and Condoms
The London Family Planning Summit expects governments to provide permanent funding for contraception programs.  Where will the money come from? Developed countries will likely siphon scarce funding from other programs to comply.
Current family planning funding in the developing world is $4 billion.1

The Gates Foundation is a large stakeholder in population control programs. In 2009, it spent $437.2 million on population funding, including family planning and contraceptives.2

USAID is budgeted to cut maternal and child health funding by $28 million from 2012 to 2013, including reductions to nutrition pro- grams while budget requests for family planning have increased.3

The London Family Planning Summit creates preferential treatment for contraception groups, above programs providing basic healthcare, education, infrastructure, economic programs – measures that lift women and communities out of poverty. In fact, this is already a problem:
The U.S. spent $72.2 million inter- nationally on contraceptive and condom supplies in 2010. By contrast, USAID spent $75 million on its entire global nutrition budget during the same time period.4

The U.S. government shipped abroad 744,366,780 total contraceptives in 2010.5

The USAID Family Planning & Re- productive Services 2012 budget is set at $524 million. This is more than the budgets for tuberculosis, public health threats, pandemic influenza, vulnerable children, and nutrition combined.6
Family planning is the wrong way to address maternal health concerns. The London Family Planning Summit assumes that pregnancy is the problem to be eliminated rather than addressing medical care for pregnant mothers. Setting timetables and goals to bolster contraception usage in the name of maternal health only leads to coercive family planning programs. For instance:
WHO reports that 89% of partnered women between ages 15 and 49 already have access to and are using an "effective method" of contraception.7

UNFPA supports population control through vasectomies and tubal ligations to reduce maternal mortality by 75%, inspiring forced sterilization campaigns in Uzbekistan and China.8

U.K. Department for International Development gave $268 million in 2005 to Reproductive and Child Health Phase II program in India. That program is accused of forced sterilization campaigns against the poor and lower castes.9

Pregnant women in developing countries need basic medical care. Contraception programs do not provide any support for pregnant mothers or newborns.
Monitoring of these contraception programs will be assigned to groups like the Summit's partners, with a history of population control, promoting abortion and abuses. For example, Planned Parenthood faces charges of fraud, sex–selection abortions, assisting suspected child sex traffickers, and violating statutory rape laws.
To find out about what you can do to TAKE ACTION NOW against the London Family Planning Summit, please click on the button below!

http://www.intrahealth.org/page/family-planning-it-takes-a-health-workerand-saves-money-and-lives
http://resourceflows.org/index.php/articles/c87/
http://foreignassistance.gov/Initiative_GH_2012.aspx?FY=2012#ObjAnchor
http://deliver.jsi.com; http://foreignassistance.gov/Initiative_GH_2012 aspx?FY=2012#ObjAnchor
http://deliver.jsi.com
http://foreignassistance.gov/Initiative_GH_2012.aspx?FY=2012#ObjAnchor
http://www.who.int/gho/maternal_health/en/index.html
http://www.unfpa.org/emergencies/manual/6.htm; http://www.bbc.co.uk/news/magazine-17612550;
http://www.nationalreview.com/corner/303173/chinas-forced-abortions-statistics-and-tragedies-ari-n-schulman
http://www.ncregister.com/daily-news/u.s.-u.k.-foreign-aid-tied-to-indias-forced-sterilization-campaign/; http://www.hrln.org/hrln/reproductive-rights/pils-a-cases/884-supreme-court-issues-notices- in-public-interest-litigation-regarding-unsafe-and-unethical-sterilizations.html; http://online.wsj. com/article/SB10001424052702304050304577377811263434578.html