During the second week of this year's 57th annual Commission on the Status of Women (CSW) at the United Nations, I was fortunate enough to attend a few parallel events that concerned the topic of sexual and reproductive health. While most events were pretty gung-ho for international policies that include sexual and reproductive rights and services (which they argue will help prevent violence against women and girls), I did manage to find one pro-life event. After a frustrating twenty minute walk in the rain, by surprise I came upon a discussion panel held by Family Watch International, a pro-life group that follows UN debates on family and life.
The discussion was led by panelists Sharon Slater, president of Family Watch International, Dr. Miriam Grossman, a medical doctor with training in pediatrics and in the specialty of child, adolescent, and adult psychiatry and also an expert on the sexual education programs promoted by the UN, and Floyd Godfrey, a licensed professional counselor. They spoke about controversial sex education initiatives, unwanted homosexual attraction, and the health risks caused by protected sex that nobody ever mentions.
Dr. Grossman, in particular, was very informative on the subject of sexual and reproductive health. On her website blog, she says something very important about the sexual and reproductive health initiatives so many countries are ignorantly pushing:
  "The priority of Comprehensive Sex Education (CSE) is sexual rights and sexual freedom, not sexual health. And in societies where sexual freedom reigns, women pay the highest price."
Grossman goes on to explain that the U.S. and other first world countries put pressure on the international community, especially underdeveloped countries, to install these sexual and reproductive health agendas that will provide contraceptives and access to abortion services for millions of people.
"UN agencies like UNICEF, along with Western governments (including our State Department) put intense pressure on underdeveloped countries to accept these social agendas, or risk losing our desperately needed aid."
During the discussion panel, Dr. Grossman and Sharon Slater spoke about how this obsession with contraception is actually part of a huge money-making scheme. They explained that by providing this controversial sex education to children from a very young age, they become 'sexualized'. In other words, the children are taught about their reproductive systems, about the pleasures of sex, and how to do it 'safely'. This then creates a 'need' for contraception and access to abortion in these countries, resulting in governments being pressured to fund the sexual and reproductive services with money that should be going to other expenses, such as feed their starving populations, basic sanitation, access to water, and fighting the spread of diseases like malaria.
The serious danger with this obsession of sexual rights and freedom is that our world's youth, those of today and of the future, are basically taught to indulge in promiscuous lifestyles, and from a very young age at that. Besides the moral dilemma this brings about, these youth are actually at more of a risk of contracting and transmitting infections because since it's their 'right' and it means they're 'free', they are likely to feel at liberty to engage sexually with as many partners as they want. Since condoms are not 100% effective and are not always available, the number of people exposed to infection is likely to increase even if they are used.
"It's a child's human right, they insist, to become sexually active at an early age, have multiple partners, and explore different lifestyles. It's their right to have access to graphic information, contraceptives, and abortions without parental knowledge."
It was refreshing to hear someone confront this issue with a medical point of view since most people tend to immediately believe the claims about 'safe sex' without questioning their accuracy or the intentions behind them.
During the Commission on the Status of Women 2013, Women's Global Network for Reproductive Rights (WGNRR) and CHOICE for Youth and Sexuality re-defined the theme of "[e]limination and prevention of all forms of violence against women and girls." These two groups in favor of reproductive rights did so with the assumption that a lack of what they regard as comprehensive sexually education is a form of violence. The event was titled "How to Break the Cycle of Denying  Young Women's Access to YouthFriendly SRHR Services?" It event took place last Monday, March 11.
Rishita Nandagiri,with WGNRR, spoke first of how she was denied information about reproduction in her 9th grade biology class. "Denial of these services for young women and young people actually is institutionalized violence," said Rishita. "This actually works against young people fulfilling their potential and achieving a lot of their goals and dreams." She also discussed her goal "to transform institutionalized violence into a space that is inclusive and does allow young people to participate and actively engage in the development of the creation of futures that they want and that they can actively be stakeholders in. "
Rishita and the rest of the event's speakers did spend some time promoting their goal of sexuality education, and "how to transform." The young speaker spent considerable time discussing progress and future plans for reproductive rights and sexuality education, including development goals for 2015 and beyond, after the expiration date set by the International Conference on Population and Development (ICPD).
One of the event's handful of speakers was Samuel Kissi, Executive Committee Member of AfriYAN and Outcomes Group Leader of the Global Youth Forum, held in Bali in December 2012. He too spoke on post 2015 development goals, and discussed how the Bali Declaration had recommendations for the post 2015 development goals, as well as ICPD+20. The Global Youth Forum was attended by "delegates" selected by a collection of mainly pro-abortion activist groups who did not represent their respective nations in any official capacity. Rishita Nandagiri was one of the two youth members of its steering committee.
The speakers appeared to be assume their audience fully supported their position on sexuality education. to a group they may have assumed was in full support. However, during the question and answer period that followed, several questions highlighted the controversial aspects of the presentation, a few of them coming from International Solidarity & Human Rights Institute (ISHRI).  and answer period followed for a time, a few questions coming from ISHRI. The speakers mentioned that misinformation and false promises of contraception is why sexuality education is important at a young age and that everyone should choose the method that's best for them with contraception. This part of the event became truly interesting however when the issue of religion versus sexuality education was brought up.
A few in the audience who made comments and asked questions came from Nigeria, and many mentioned the influence of the Muslim and Christian religions there. One woman mentioned how such influences give the youth conflicting and different views. The woman says that "we need the youths to break out from this shadow and start fighting their battle," suggesting that she very much is in favor of going against a religious view on sexuality and sexuality education, and that what the youth "face" is a "battle with the Catholic Church."
A few comments later, another representative from ISHRI made a comment, that she did receive sexuality education, but that the Catholic point of view of sexuality in the context in marriage, and that it doesn't try to put people down, but that it's better in marriage, which is where the most respect comes from for women.
Samuel responded by offering what he called a Christian perspective. and he himself offers a Christian perspective. He articulated being firm in having access to resources, and mentions such resources as an "opportunity." Samuel also gave advice on speaking to the government about accessing such resources. In mentioning Christianity though, Samuel points out that he is happy to have heard such examples because where he comes from is also affected by religion:
And also I was very happy to hear the examples here because I also come from a country which is largely influenced by various religious organizations. And I am a Christian as well. I go to church every Sunday when I am around in my country and I understand that there is a need for us to address these issues without using our religious lenses, because, maybe in the U.S. as a Christian it is nice for a woman to wear trousers, in another country you could be killed for that. And this is what we are trying to avoid, we want to have a world where everybody is free to practice their own religion, but also for instance, young people, able to get to scientific, accurate, non-judgmental information about their sexuality, for instance. So this is a very important thing, and one thing I like to do is when you talk about it and when the religious issue comes up, do not think only about you and your religion and where you live, because it's a very big world and everybody's needs doesn't come together so easy.
When Samuel phrases it this way then, he makes it seem as if it is religious freedom against sexuality education. And in any case, he makes it clear that he would choose sexuality education. Though it is not a new tactic for those who criticize religion when it comes to sexuality education, it is worth noting that the tactic of mentioning only the criticisms of religion are used here by Samuel. It is mentioned that "we want to have a world where everybody is free to practice their own religion, but…" That "but" is very important. It basically is saying that you can practice your own religion, but that the right to sexuality education trumps that. Sexuality education may seek to be inclusive and informative, but it is so as long as you are not a religious organization or individual with a dissenting view.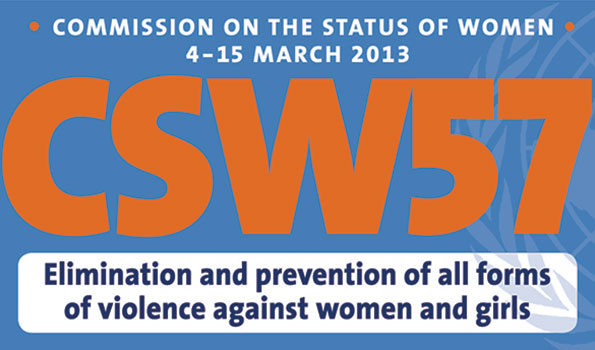 The next two weeks at the United Nations are well, kinda a big deal.
Why? Well, it's the 57th Session of the Commission on the Status of Women (CSW)! The CSW is a commission of the United Nations Economic and Social Council (ECOSOC) and according to the CSW website, it is "the principal global policy-making body dedicated exclusively to gender equality and advancement of women". This year's priority theme is "the elimination and prevention of all forms of violence against women and girls". This all sounds great, right? Who in their right mind wouldn't want to end violence against women?
The problem is that making sexual and reproductive rights a priority is a major part of the proposed solution to this problem. Every year it features countries that want to push abortion on demand on the rest of the world, and yes the USA is one of those. This year proponents of abortion rights will argue that abortion should be a right of reparation in situations of armed conflict.
One interesting fact is that during last year's 56th CSW session, the final document that was supposed to address the priority theme of "the empowerment of rural women and their role in poverty and hunger eradication, development and current challenges" did not pass because of failed negotiations. The negotiations failed mainly because the United States used very undiplomatic tactics in order to impose Obama's contraceptive mandate on the world through language in the outcome document of the commission. As expected, this angered other countries who opposed both the US's language and their unacceptable behavior. This is explained in more depth in a Friday-Fax by the Catholic Family and Human Rights Institute (C-FAM) published around this time last year.   We hope that this year countries take the same stand against such a radical and controversial attempt at pushing forward the case for abortion on an international level.
Some things to know about this year's CSW session: There is the ever-present concern that controversial language that defends reproductive and sexual rights on an international level could become part of a final resolution. Also, because this year's priority theme is about violence against women, efforts by the US and European countries to make abortion a right of reparation should be a key concern for pro-life activists during this session.
#CSW57 - Keep up with the events and negotiations via Twitter!
Also, you can learn more about the CSW here!
http://oaklandpostonline.com/2012/03/20/perspectives/alumni-goes-to-un-for-women%E2%80%99s-conference/
The Commission on the Status of Women is a part of the United Nations Economic and Social Council.
The main goal of the CSW is to work in global policy decisions pertaining to gender equality and the advancement of women.
This year, the CSW met for the 56th session at the UN Headquarters in New York City.
Each year, the conference takes on a different theme pertaining to the rights of women.
This year, the conference focused on the empowerment of rural women and their role in poverty and hunger eradication, development and current challenges.
One of the key issues debated at the conference was sexual and reproductive rights of women.
Although abortion is a highly sensitive topic, it is one that was discussed heavily at the conference.
I attended this conference as an intern with C-FAM, the Catholic Family Human Rights Institute, a pro-life, pro-family non-governmental organization.
During the conference, I worked with 10 other interns from the U.S., Austria, Mexico and Argentina in attending parallel events regarding rural women as well as writing about our experiences on a blog for the International Youth Coalition.
A remarkable moment at the conference for me was the viewing of a documentary on human trafficking entitled, "Nefarious: Merchant of Souls," which was an emotional and powerful documentary on the horrors of the biggest criminal industry in the world. It shows how widespread human trafficking is and how impactful it is to those who partook in acts of sexual trafficking. Relevantly, the upcoming Women's Symposium at Oakland University will feature a special discussion on human trafficking.
The recent mandate by the Obama administration for religious institutions to provide contraceptives and other forms of birth control to its employees has been a highly debated topic in recent news.
Personally, I believe the right to life is the most fundamental rights that must be protected.
Women deserve better than abortion and children like women also deserve rights. At the UN conference, I got a sense of not only how bureaucratic the UN is, but also how gender was such an important concept and phrase which was used in most literature I came across.
Women's rights and abortion were simultaneously used throughout various talks I attended, however, China's one  child policy is an example of how abortion is more harm than good.
A lecture I attended by Dr. Susan Yoshihara, senior vice president for research and director of the International Organizations Research Group, talked about how the whole idea of population control in China and sex-selective abortion.
The CSW conference gave me a better understanding of how human rights are enforced and enacted at the international level, it also alerted me to the importance of standing up for the unborn, for they also an important part the future of society.
Zaid C.